Trinity College Kandy came back from a deficit of 8 points in the first leg to give a brilliant display of running rugby not only to beat Royal College but also to win the Bradby Shield handsomely with a 40 Points (3 Goals, 2 Tries, 2 Penalties, 1 Drop Goal) to 5 Points (1 Try) win in their 67th year of the series at the Royal Sports Complex yesterday. At the short breather Trinity led 21-0.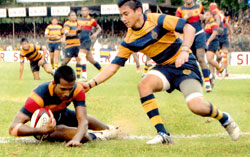 Trinity centre Kanil Seneviratne plants another try.
Trinity was simply outstanding. They were on a mission this season. That was to bring back the Bradby to Kandy after a three year long wait. In the end they did it in grand style. Led by stocky forward Murad Ramzeen they attacked Royal from the kick off. It was Royal who took time to settle down which for which they paid heavily. Until the last whistle they did not settle down and play their normal pattern of attacking forwards rugby.
More than anything else it was an off day for Royal play making fly half Arshad Jamaldeen who missed 3 penalties. He was also well marked and not allowed any play making. Shortly after the half way mark he was carried off the field after being injured.
For Trinity it was fly half Rehan Weerakoon who was in excellent form. Making no errors in selecting to kick to touch or work the line. On attack he split the Royal defense on a number of occasions and his place kicking was meticulous. Trinity forwards were very smart and fast on the loose ball. Skipper Murad Ramzeen led from the front being in thick of things. Their pack leader Sean Foster too had an wonderful game. While in attack Mohamed Shesan was lightning fast. Whenever he got the ball he threatened to blaze through the opposition defense.
In brief Royal was mesmerised by the Trinitians.
Royal missed a relatively easy penalty opportunity in the 5th minute of the game when the Trinity forwards were caught collapsing the scrum. But Royal fly half Arshad Jamaldeen was off target. In the 10th minute of the game Trinity drew first blood when Rehan Weerakoon kicked a superb 30 meter corner flag penalty.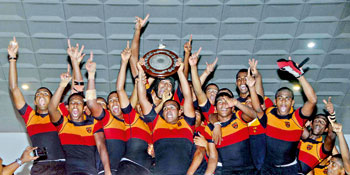 Trinity skipper Murad Ramzeen holds the Bradby Shield which they won after three years.
Trinity who kept on attacking in the Royal half scored through centre Dilshan Yatawara who crashed through the Royal defense for a three quarter try. Rehan Weerakoon added the extra 2 points. A few minutes later Arshad Jamaldeen missed another penalty 35 meters away to the right side of the post. Soon afterwards Rehan Weerakoon, who enjoyed one of the best games of his life kicked a 30 meter penalty to take a 13 points lead.
Trinity kept on attacking and earned dividends through a try by hardy winger Mohamed Sheshan. On the stroke of half time Rehan Weerakoon had 3 more points added though a neat drop goal to have "Lemons" at 21 to nothing.
After the turn around Royal re-grouped but briefly and failed to apply the pressure into points. In the second half tries were scored for Trinity through number 8 Sean Foster, Centre Kanil Senenviratne and Mohamed Shesan. In the last few minutes of the game Royal Skipper Shehan Pathirane scored the only try for Royal.
With this win Trinity leads the "Bradby Shield" tally by 36 to Royal's 30 with one year ending in a tie.
Before the commencement of the game the two teams were introduced to former Royal skipper Jagath Fernando who captained Royal at rugby in 1970.
Referee : Dilroy Fernando
In the junior game Royal beat Trinity 17-15 but Trinity retained the Simithrachchi Trophy by virtue of their 33-5 win in the first leg.
Written by Shamseer Jaleel. Pictures by Sanka Vidanagama. Obtained from the sunday times newspaper(12th June 2011)
Highlights of the Match:
Watch the complete live recording of the match – link.

Related Posts:
513 views
Published 10 years ago
Posted in
Bradby
,
Events
,
News
,
Rugby
,
Sports