Royal lived up to their expectations as the champion schools rugby outfit when they continued their unbeaten run in the current Singer League Under 20 competition when they edged out the much fancied Trinity College by 33 Points (2 Goals, 2 Tries, 3 Penalties) to 25 Points (2 Goals, 1 Try, 2 Penalties) in their first leg of the 67th Bradby Shield encounter played in front of a packed Bogambara Stadium.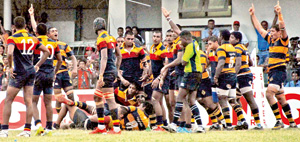 Referee D. Nimal awards a Royal try.
At the short breather it was Royal who led by 20-8.
It was Royal all the way. They did play a grand game and played to a set plan. Nothing went correct for Trinity who once more took time to settle down in front of a home crowd who expected a lot from them. For Royal it was Skipper Shehan Pathirana who had a grand game leading his troops from the front. He was in the thick of things being fast on the loose ball and whilst on the attack he sent the Trinity line to pieces.
He was ably supported but 'Mr Reliable' Arshad Jamaldeen. Like father like son they say, son of former ace place kicker Nizam Jamaldeen was the difference between the two sides. He found touch and gained possession for Royal who kept on attacking in grand style. Meanwhile in the forwards battle it was Wasim Bawa's day.
The lanky forward enjoyed one of the best games in his life. Trinity were simply rattled by the much powerful and organized Royal outfit. They came back strongly late in the second half but it was too late as Royal not only took an 8 points lead in the Bradby series but also kept their unbeaten record plus hopes of winning the League this year intact.
Royal drew first blood in the very first minute of the game when an unsettled Trinity outfit failed to collect the high ball. Off a line out Royal Flanker Wasim Bawa brushed through a few defenders to touch down for Arshad Jamaldeen to kick at goal. Four minutes later Trinity reduced the lead through a Reshan Weerakoon penalty in front of the posts. With the Trinity line spotted off side once more Arshad Jamaldeen was on target to take a 10-3 lead.
Then came in the captain's try, when Shehan Pathirana split the weak Trinity defense to touch down a superb forwards try. Jamaladeen added the points extra points. Soon afterwards Trinity centre Diloshan Keliyangoda dashed through Royal defense to score a try. With minutes to half time Jamaldeen took a further 3 points lead to take "Lemons" at 20-8
After the turn around Trinity played as a better unit but lacked the finishing touches. Replacement full back Sanchana Shiek reduced the score through a 40 meter penalty. But Royal forwards came back through a try by lock Lahiru Pathirana .
Trinity hit back two minutes later through centre Kanil Seneviratne's try. Shiek added the extra points to cut the deficit by 10 points to 28-18. Royal skipper Shehan Pathirana who had a grand game powered his way to score his second try of the match. In the last few minutes of play Rehan Weerakooon who covered nearly 25 meters knocked the ball on the line trying to score under the posts. In the last minute of play Mohamed Seshan went through a shell shocked Royal defense to cut the deficit and have some hope for the second leg with an 8 points deficit.
Referee: D Nimal
Before the commencement of the game both teams were introduced to the chief guest Ravi Balasuriya the 1977 Trinity captain and rugby "Lion".
In the junior games Trinity had a field day winning all of them. Under 14 A Trinity won 7-5; Under 14 B Trinity won 32-5; Under 16 Trinity won 5-0; Under 18 Trinity won 33-5.
The second leg will be played in Colombo on June 11.

Article obtained from the sundaytimes written by Shamseer Jaleel (29th May 2011)
The 67th Bradby Shield 1st Leg Photos:
[nggallery id=9]

Related Posts:
539 views
Published 7 years ago
Posted in
Bradby
,
Events
,
Letters
,
News
,
Rugby
,
Sports